FIRST® Robotics Competition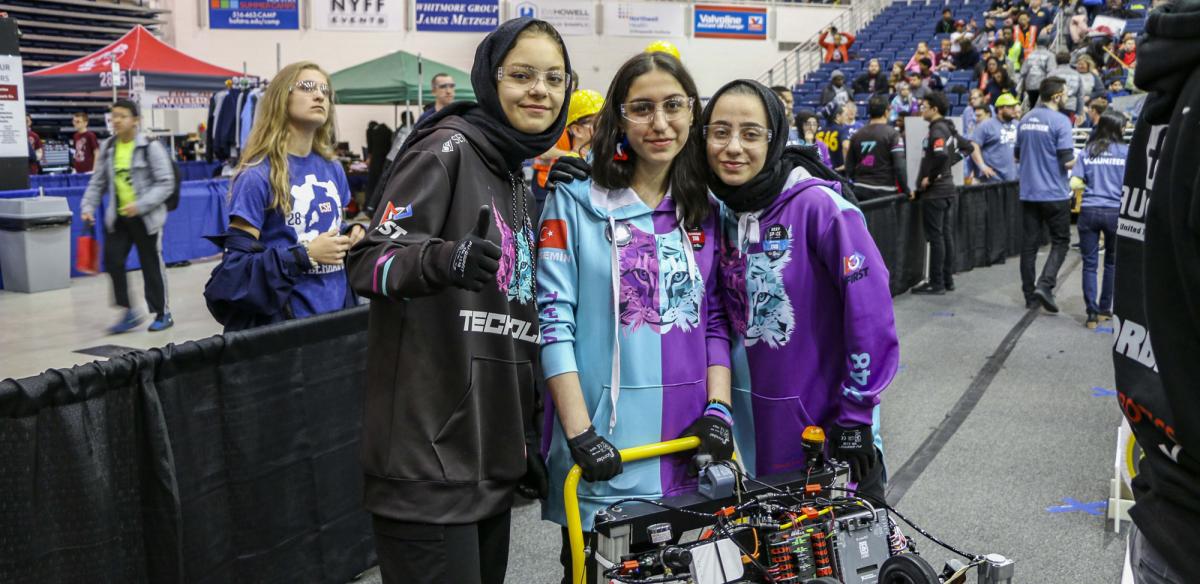 A non-profit organization headquartered in Manchester, New Hampshire, FIRST® was founded by inventor and entrepreneur Dean Kamen to inspire young people to pursue further studies and careers in science and technology.
The FIRST Robotics Long Island Regional Competition, hosted by FIRST Long Island, is held annually in March/April at Hofstra University, in Hempstead, New York. In 2018, the program was expanded to two full tournament-style events. The competition brings together teams of students and their mentors from roughly 50 Long Island schools, schools from the Metropolitan area as well as visiting teams from around the country and abroad.
Students aged 14 to 18 (grades 9 to 12) are eligible to participate. Teams form in the fall and consist of 15-25 members. The kick-off is held in January, when teams receive a kit of parts common to all teams everywhere. They are tasked with designing and building a robot, weighing up to 120 pounds, using a common set of rules and challenges, which change annually. Once these young inventors create their robots, teams participate in the Long Island Regional #1 and Long Island Regional #2 in March/April.  As the teams demonstrate their creations, they are cheered on by thousands of fans over a three-day period.  The competition includes two short games played by the robots, where the students program and remotely control them in competition rounds on the playing field. 
The judges measure the effectiveness of each robot as well as the collaborative efforts and determination of the students. Awards are presented for design, technology, musical theme and sportsmanship. Members learn about friendly competition, teamwork, problem solving and gracious professionalism. In addition, they are challenged to fill roles ranging from research to "design and build," computer programming and animation, as well as fundraising and community outreach.    
This experience enriches students to seriously consider the pursuit of a college education and intended career in technology-related fields. FIRST Long Island hosts this program to provide talented students with scholarships, internships, and employment opportunities to keep talent on Long Island.
IMPORTANT NEWS
2023 FIRST Robotics Competition
The Long Island Regional FIRST (For Inspiration and Recognition of Science and Technology) Robotics Competition season will kickoff at the Krasnoff Theater at LIU Post, located at 720 Northern Boulevard, Brookville, NY on Saturday, January 7, 2023, at 9:30 a.m. FIRST Robotics Competition teams from across Long Island will gather in anticipation of learning about the upcoming season's robotics competition.
During the local Long Island Kickoff, FIRST Long Island, which hosts the event, will treat students and parents to presentations from its members and guests regarding the impact of the program on local communities and businesses. Raffle prizes will also be given out. Towards the close of the event, each team will collect its kit of parts to construct a 120-pound robot.
FIRST Long Island will be hosting two back-to-back regionals in 2023
FIRST Long Island Regional #1 will be from March 20, 2023 to March 23, 2023
FIRST Long Island Regional # 2 will be from March 23, 2023 to March 25, 2023
While teams attending the FIRST Long Island Regionals that need lodging may avail themselves of any of the local hotels, FIRST Long Island has arranged blocks of rooms with certain local hotels.
To take advantage of these, click on the corresponding link to register for the hotel you would like to use. They represent different price points.
For FIRST Long Island Regional # 1 the information and booking are as follows:
La Quinta must be booked by February 26th and the Hyatt and Residence Inn by February 17th.
For the La Quinta Inn, you may call the hotel directly at 516-705-9000, option 5 and referencing the FIRST Long Island Event 1 group
La Quinta Inn & Suites by Wyndham Garden City Rooms & Rates (wyndhamhotels.com)
Hyatt: Long Island Robotics March 19-21 Booking Link
Residence Inn: Book your group rate for The School Business Partnerships of Long Island
FIRST Long Island Regional # 2 the information and booking are as follows:
La Quinta must be booked by March 1st and the Hyatt and Residence Inn by February 22nd
For the La Quinta Inn, you may call the hotel directly at 516-705-9000, option 5 and referencing the FIRST Long Island Event 2 group.
La Quinta Inn & Suites by Wyndham Garden City Rooms & Rates (wyndhamhotels.com)
Hyatt: Long Island Robotics March 22-24 Booking Link
Residence Inn: Book your group rate for The School Business Partnerships of Long Island